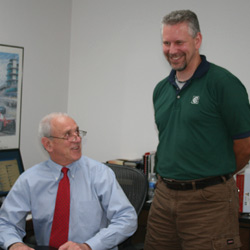 For three generations, the Simpson family has worked in family businesses. "My father worked with his father, and I worked with my father, so the opportunity for my son to work with me, I thought, was pretty neat," said Tom Simpson, president of AAA Certified Confidential Security Corp. (CSC) in Peoria. "It's kind of a family tradition."
Tom's grandfather, Lawrence Simpson, was one of the founders of Bennett Publishing Company, a small textbook publisher in Peoria that was eventually purchased by publishing giant McGraw-Hill. Throughout his years of ownership, he employed both his son, Richard, and grandson, Tom, with the latter continuing the family tradition by going into business with his own son.
The father-son duo of Tom and Chris Simpson have owned and operated CSC, a company that specializes in the secure destruction of confidential information, since 1994, when they purchased the business from its former owner, Don Eckhoff. At the time, Eckhoff was able to run the company out of a rented warehouse by himself with little help, and he had just a single truck. Since the Simpsons took over, the company has seen steady growth, and now has 15 employees and six trucks, not to mention a larger facility.
"All of the basics were there—the concepts, the ideas and a lot of the equipment," said Tom of the business in 1994. Two years later, the Simpsons built their current building and upgraded the equipment to offer customers the latest security possible. CSC has purchased new equipment several times since, expanding their micro-media destruction capacity, adding a disintegrator; degaussers, which remove or neutralize magnetic fields; and a hydraulic press used in the destruction of computer hard drives.
Tom's interest in buying the business was sparked because he was looking for a long-term project to replace the short-term marketing jobs he had been doing since his family's publishing business closed down. After working a number of jobs around town, Chris, too, was interested in settling into a long-term career, so the two decided to go into business together.
Splitting the Duties
As president of the company, Tom is responsible for the management side of things, while Chris, as vice president, supervises the truck drivers and handles the plant side. Both men are active owners of the company, working alongside their employees every day. Chris drives one of the company's trucks, while Tom shares an office with CSC's other professional employees.
Unlike many secure destruction companies that destroy materials in their trucks at clients' sites, CSC uses its trucks only to collect materials, bringing everything back to the plant for destruction. Other companies may spend less time transporting materials, but the Simpsons believe their procedures are more effective and secure. With a security system designed jointly by CSC and Caterpillar's security division, the company records video of all of the plant's operations, 24/7. Their upgraded equipment and security allow the Simpsons to guarantee that anything they collect will be destroyed beyond readability.
Materials are generally destroyed the same day they're collected, as the trucks must go back out the next day to make more collections. If that means staying late or coming in on weekends until the work is done, that's what the Simpsons do. "As a family business, you've got to be ready to do anything and everything, and do more than you expect out of your employees," he said. "You have to work until you get the job done—that's one of the positives and negatives of a family business."
Having been involved in his family's publishing business for 25 years, Tom knew both the benefits and the drawbacks of working with family going into the partnership with his son at CSC. Understanding those challenges, he decided it was worth the extra work. "I guess [my family doesn't] know how to do anything different," he mused. "We've all worked somewhere else, but we've all ended up working together with our families."
Family First, Business Second
One of the downsides of working with family, noted Chris, is that familial relationships can be hard to overcome. "It's difficult to step out of the 'son' role and be identified as a business partner," he said. The Simpsons work through it, though, making an effort to satisfy not only those family members involved in the business and their employees, but also those family members who aren't involved in the day-to-day operation of the business. Tom noted that when in business with family, it's easy to forget that not everyone in the family is as passionate about the business as its owners are. Making sure to carve out time for family that doesn't involve discussing the business is extremely important.
As co-owner of the only locally-owned business in central Illinois specializing in the protection and disposal of confidential information, Tom said he hopes people appreciate that fact. That they've been in this community all their lives, he said, gives them "a pretty good grasp of what the community needs and what the community expects."
After finding its place in the community and building up the business through word of mouth, Tom said they haven't done much in the way of advertising. What little marketing they have done has been targeted at local businesses; they try to keep the general public from walking in off the street with small jobs, like shredding outdated bills. Even if you know CSC's address, it's easy to miss their nondescript warehouse on Industrial Road. There's no big sign out front, nor on any of the company's trucks. And so far, that's worked out pretty well for the Simpsons.
Eighteen years after buying the business, Tom has no plans to retire anytime soon, but he does hope that when the day comes, Chris will be ready and willing to take over. iBi